The district of Brera and the Pinacoteca di Brera ("Brera Art Gallery") is the main public gallery for paintings in Milan. It contains one of the foremost collections of Italian paintings, an outgrowth of the cultural program of the Brera Academy, which shares the site in the Palazzo Brera.
Leonardo Da Vinci left and indelible cultural imprint  on Milan and Milan also made a decisive impression on Leonardo. Painting underlies all of Leonardo Da Vinci's efforts, as he considered it a means of verifying directly experiments and formulas, yet there is only one painting by him in a Milan museum and that is Portrait od a Musician, in the Pinacoteca Ambrosiana, Brera.
Milano remained a presticious center for art and culture during the age of Baroque thanks to the work of artisans making all kind of precious objects: a golden age for art and architecture.
During 1500/1600 the Milanese art reached a high degree of self-awareness, developing a very clearly delineated school marked by attempts to create natural realism with concrete yet poetic images of everyday life.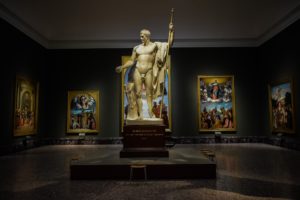 Federico Borromeo was the force behind a highly active cultural moment, rhanks to creation of the Amrbosian Library, the second library created – right after Oxford's – and the first museum in Europe that was regularly open to the public.
In 1798 Napoleone Bonaparte arrived in the city and selected Milano as the capital of Cisalpine Republic and then of the kingdom of Italy. Thanks to both public and private commissions, the quality of Lombard art, decor and woodwork would stand out internationally in the orlds of Neoclassicism and the Empire style.
Andrea Appiani was the star of the Napoleonic age in Milan. In His role as painter at the court, he was responsible dor the decorative transformatiom of the Royak Palace work space, and as director of the Academy of Fine Arts, he personally choose the works that comprised the early collection of the Pinacoteca di Brera, wchic included many exceptional pasterpieces.
Brera is synonymous with the artistic heart of the city. In fact, as you stroll along the streets of this ancient district, you cannot help but be enchanted by its almost surreal atmosphere boasting small artisan's workshops or quaint stores selling canvases and paints. Additionally, Brera is home to the impressive Accademia di Belle Arti, where visitors can admire Milan's famous painting collection at the Pinacoteca (the Brera Picture Gallery), the historic Biblioteca Nazionale Braidense (Braidense National Library) , the Museo Astronomico (The Astronomical Museum), the oldest scientific research institute in the city and the Giardino Botanico (Botanical Gardens), an evocative green space